Publication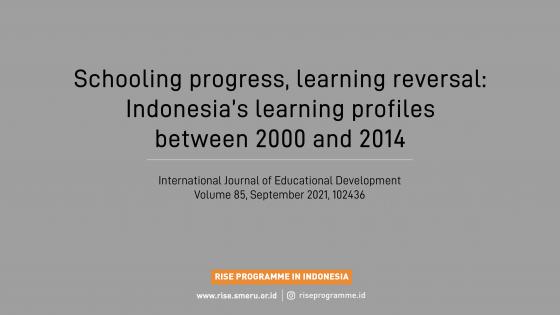 Other
Check out RISE Programme's new paper published in the International Journal of Educational Development (IJED) here. This paper was written based on our working paper "Indonesia Got Schooled: 15 Years of Rising Enrolment and Flat Learning Profiles".
Video
The Minister of Education, Culture, Research, and Technology of the Republic of Indonesia, Nadiem Anwar Makarim, who opened  RISE Programme in Indonesia's Webinar on Tuesday, 13 July 2021, gave an appreciation to the efforts made by RISE as the Ministry of Education, Culture, Research, and...
Video
Dr. Rahmawati, S.T., M.Ed. is the Coordinator for Analysis and Utilization of Assessment Results, Center for Assessment and Learning (Ministry of Education and Culture). She shared a message about the importance of literacy and numeracy skills as a life-skill competency for Indonesian children.